MeltAway Challenge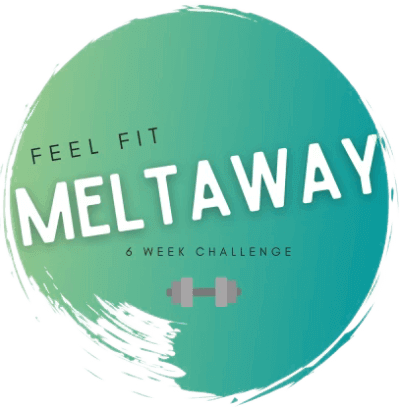 It's time to melt away that holiday fluff and sculpt a better you! It's time for the Feel Fit Meltaway Challenge. This is a partner weight loss challenge, so find your partner and get signed up for your chance to find that better you and maybe even win some prizes. There will be weekly prizes awarded as well as prizes at the end of the challenge. It will be a lot of fun, so what are you waiting for, read all the details on the Meltaway Challenge below and get signed up.
The Meltaway Challenge will begin on Monday, January 18 but you must be signed up and weighed-in before that date. This is a partner challenge because we all do better when we have someone there supporting, motivatimg and pushing us. This Challenge is open to Members and Non-members alike so any one is welcome. Members can pair up with a non-member if they would like.
The Meltaway Challenge is $30 per person. Members can sign up online or in the Feel Fit App. Non-members can do the same once they create an account.
Get Ready for the Melt Away Challenge
Here's what you need to do to get ready for the challenge before January 18.
Find a partner. If you need help we can help find you a partner.
Create your team name.
Get Registered. Sign Up Here or on the Feel Fit App.
Download the Feel Fit App if you don't already have it.
InBody Weigh-in at Feel Fit on one of the following dates and times.
January 13

6:00 am - 7:00 am
Noon - 1:00 pm
6:30 pm - 8:00 pm

January 14

9:00 am - 10:00 am
3:15 pm - 4:15 pm
Join our private Facebook group Feel Fit Melt Away Challenge".
Download your weekly tracking sheet here.
Find your why. That means what do you want to get from this, i.e. lose weight, then ask yourself why - so your jeans fit better, so you can feel more confident, to show your kids how to be healthy. What is your drive?
Get yourself an app (ie: MyFitnessPal or Lose it) that tracks calories. This is just to help you with awareness. You get points for staying in your goal range. You want to be close to your range, but not starving yourself.
Meltaway Challenges
Here is how you can earn weekly points, beginning Monday, January 18.
Daily Points
3 pts - Be within your target calorie range. Make sure you are taking into account the calories you are burning during exercise.
2 pts - Drinking at least 8 cups of water. Not tea, coffee, or pop. You can put flavoring in your water.
5 pts - Complete the week's workout challenge. Posted Every Sunday for the following week on the Feel Fit Melt Away Challenge Facebook Page".
Workouts - 3 pts for 30 minutes / 4 points = 45 minutes / 6 points = 60 minutes, Max 5 days in the week, day 6 and 7 earn no points.
Weekly Points
10 pts - WOW workout posted Every Wednesday on the Feel Fit Melt Away Challenge Facebook Page". You must do it Wednesday and post a selfie on your Facebook page and tag the Feel Fit page.
5 pts - Attend at least one Feel Fit Class.
3 pts - per partner shout outs. - MAX total of 9 points

Give a shout of encouragement to your partner on Social media and tag Feel Fit
Give a shout out in person
Leave a shout out at Feel Fit

10 pts - Maintain or lose weight when you weigh yourself on Mondays. No points if you gain.
Post your results here. Post results daily if possible. Weekly results are due every Monday. Feel Fit will calculate your totals.
All point must be entered weekly by Monday.
Complete the Meltaway Challenge
Final weigh-in:

February 24

6:00 am - 7:00 am
Noon - 1:00 pm
6:30 - 8:00 pm

February 25

9:00 - 10:00 am
3:15 - 4:15 pm

Post any missing results by March 1.
IF you get sick or have a bad week - please get back on the horse! We want to compete - BUT more than that we want to support each other in making healthy life choices! Find your personal best!
Questions? email Donna Douglass donnadouglass@msn.com